Lets Introduce.
How nice that you visit our website, we are happy to introduce ourselves to you.
In 1994 we (Liesbeth and Carel de Jong) first came to Bonaire for our first diving holiday.
After some years we have fallen in love with this beautiful island and its sunny climate. More than 25 years have visited Bonaire, finally that brought the idea to leave the Netherlands for good.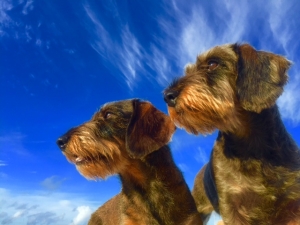 Together with our two young dachshunds dogs Buddy and Diva we moved to Bonaire (October 2012)  to continue and enjoy life under the sun.The completely different and quieter life on Bonaire brought a new challenge, because we were looking for something new, something that we could do together.
Many friends and family members have visited us on Bonaire. We realized that it is very nice to give people a nice holiday. This gave us an idea.Three years later after we bought our first house on Sabal Palm, we purchased our second home Villa Kas Beyesa. A large Villa which is fully equipped. With vacation rental Kas Beyesa is our wish come true.
Liesbeth de Jong-Sakko:
For many years I worked in the sales of interior design, that was my specialty. 
My work was giving advise in home furnishings and beds. The personal contact with people and the connection with customers has always given me a special feeling. This experience was unforgettable, because you meet so many people.  Bonaire has taught me to appreciate others things, For example, when you see the sun disappear into the sea, ore when you see the sun come up early in the morning. Yes, these are the nice things of life on Bonaire. A nice dive ??  I can still do it with great pleasure, its still beautiful underwater.
Dive Sites: Something Special.
Food: Sushi; Thai.
Drink: Wine
Country: Bonaire; Thailand

Carel de Jong:
In the Netherlands, I have worked 25 years as Head Incident Manager worked at Environmental salvage company.Reducing environmental damage was a very important aspect in our work. Also assisting with knowledge and expertise in large / complex accidents involving hazardous substances belonged to my specialties. Liesbeth and I have changed our course because we both wanted to have a different life and life more outside.Because we have been coming for years on Bonaire and we now we live here, we know the island very well and we would like to share this knowledge with our guests. Bonaire is clearly growing and new developments in tourism going forward, I find it exciting to be part of it. As a Tour Guide I can give tourists very adequate information, which is very fun to do. 
I still enjoy a nice dive and do some underwater photography. Fortunately, you can do that every day whenever and wherever you want, but also the deep sea fishing is one of my favorites sport. It's great to prepare your own fish on the grille.
Dive Sites: Salt Pier; East Coast.
Food: Sushi; Thai; Pizza
Drink: Polar beer / milk
Country: Bonaire; Thailand
Dislikes: Brussels sprouts